Kinn Guesthouse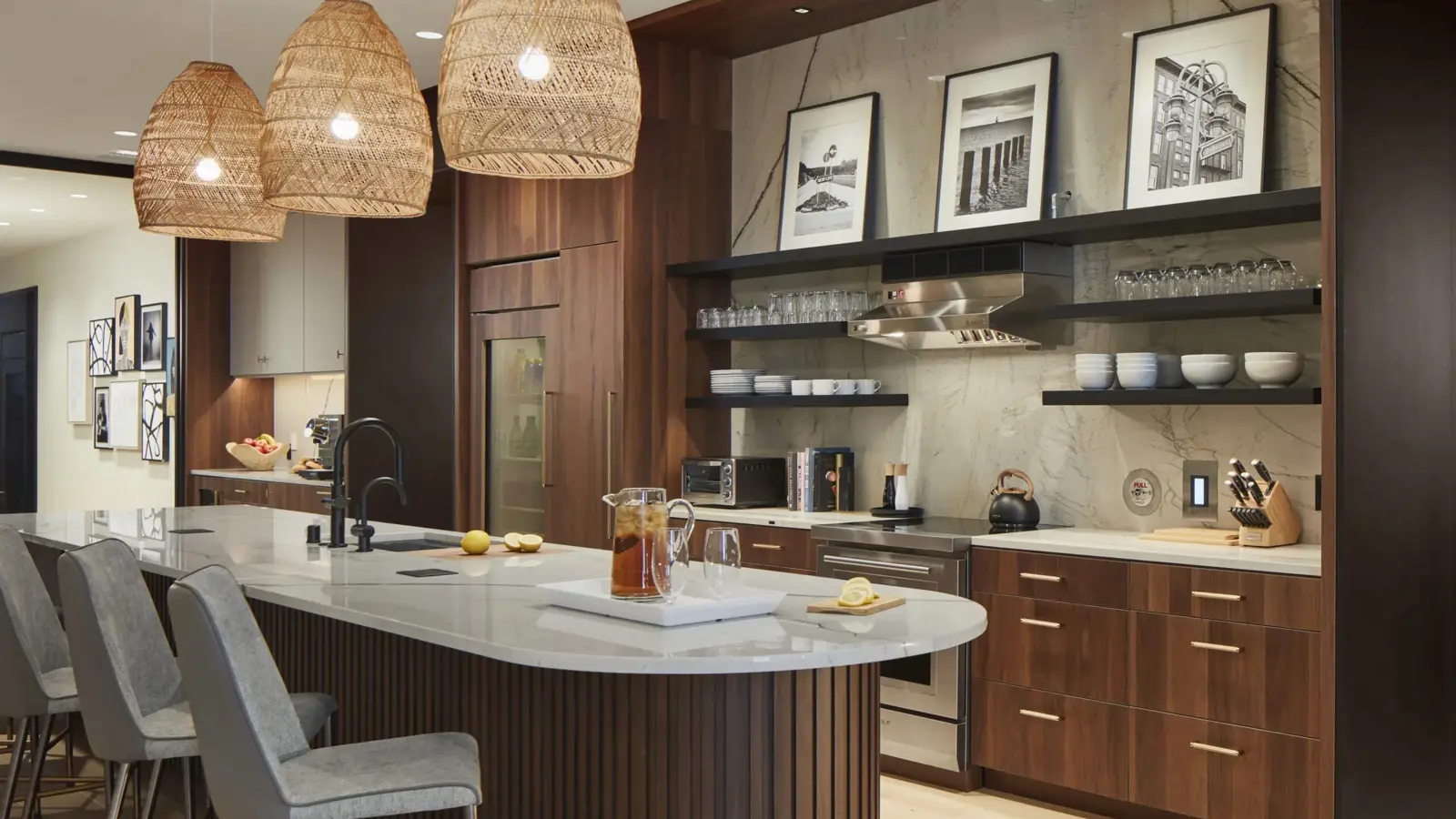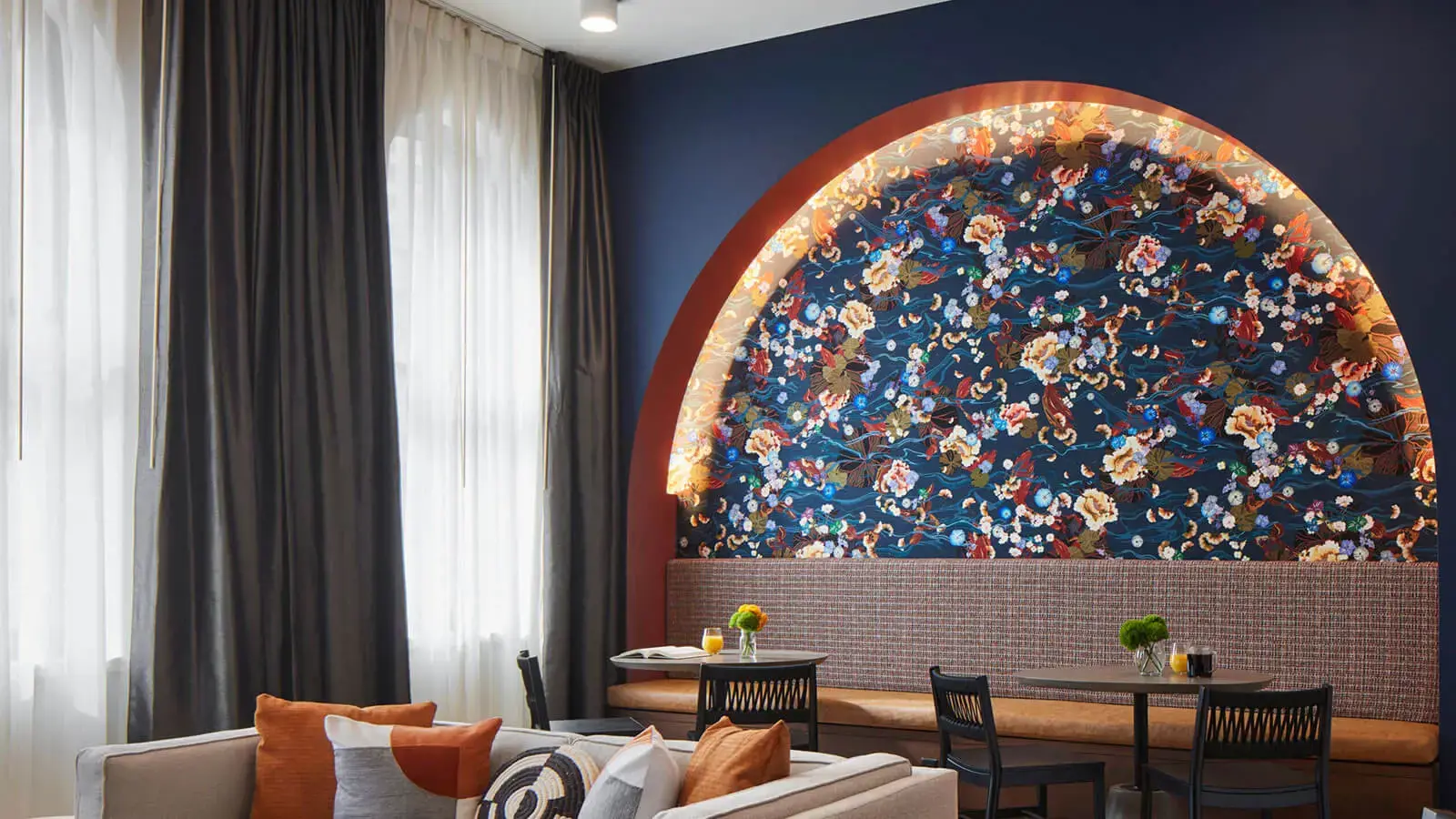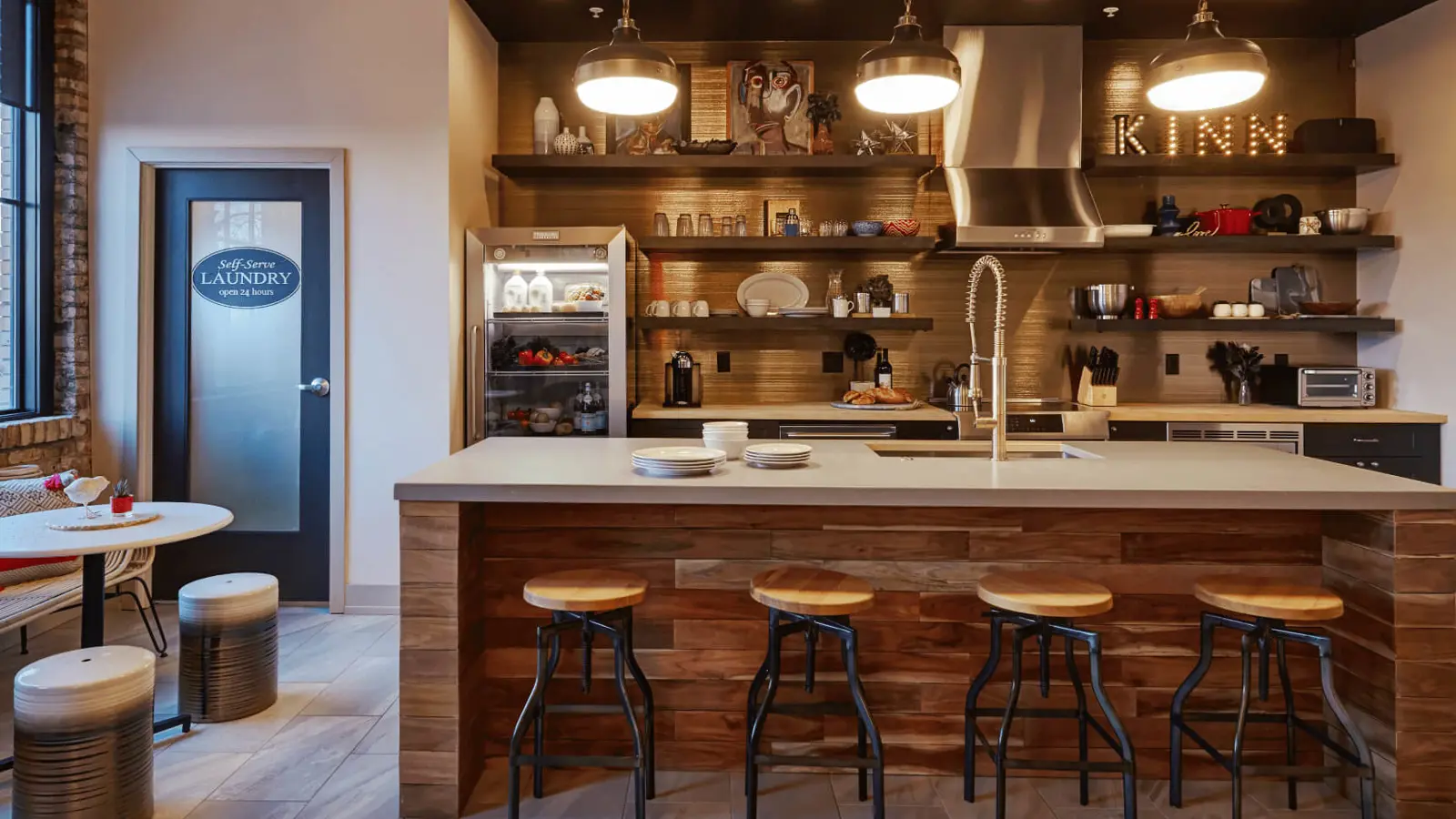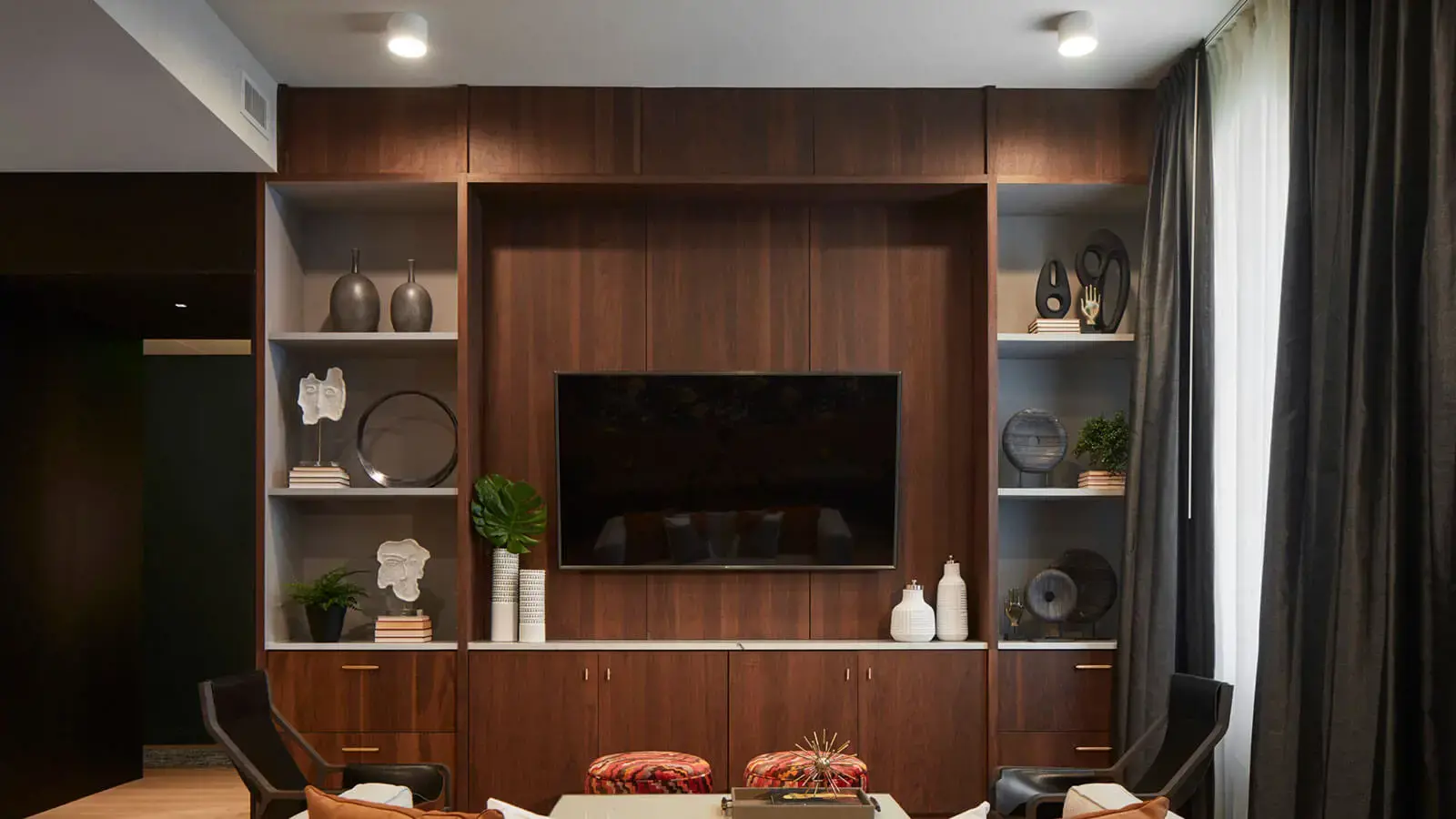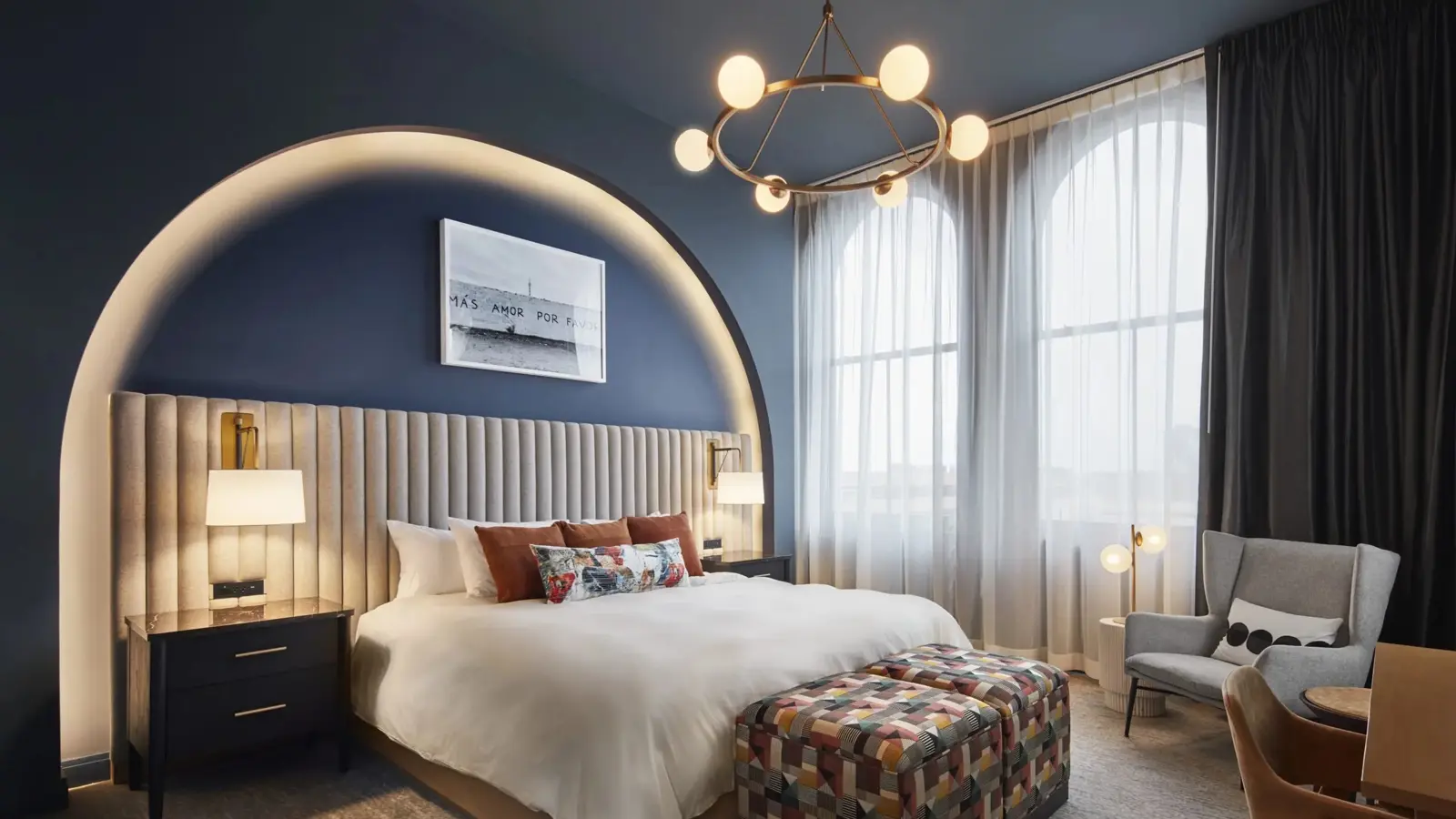 Where Staying Away From Home Feels More Like Being Home
Our boutique guesthouse concept offers a personalized lodging experience you won't find anywhere else. Kinn Guesthouse was designed to offer you a memorable, one-of-a-kind take to escape the excess of old-school luxury and replace it with a more modern take of what luxury means for today's traveler.
We do that by intentionally staying away from 400-room properties, white-gloved doormen, bell hops, and silver-domed room service. Instead, we offer guests authentic experiences that focus on modern luxuries, like the efficiency of self-check-ins, contactless service, beautiful spacious rooms with modern amenities, communal chef's kitchens and the freedom to experience a property on their own terms. We do all that in carefully curated spaces that feel more like a home-away-from home.
We're proud to be the first-of-its-kind hotel in Milwaukee and we promise our unique combination of home, luxury, and comfort under one roof is something you'll see and feel in every aspect of your stay.
A Difference You Can Feel From the Moment You Check-In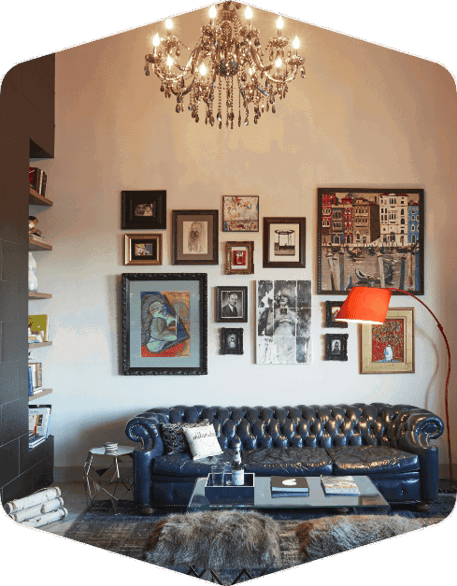 It's Like a Home-Away-From-Home
That's how guests describe our properties after staying with us. It begins with the freedom of our self-guided check-in process and continues through to the styling of our shared lounge spaces, our fully furnished communal kitchens and the sleep-inducing Brooklinen bedding in every room. When you stay at Kinn, you can expect the perfect mix of hotel and home.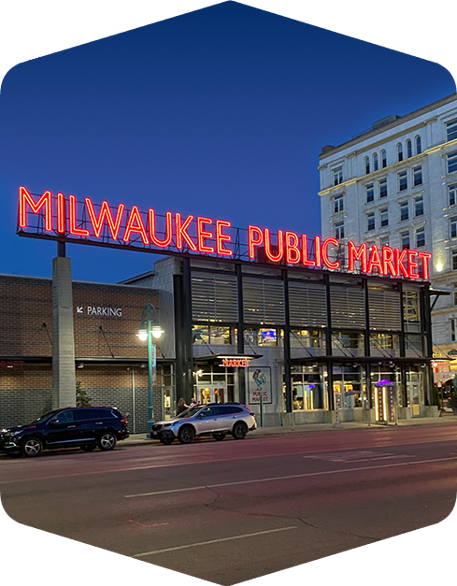 Always Located By The Action
Whether you like to stay somewhere that has a neighborhood vibe or whether you prefer to be amidst the sights and sounds of the city center, Kinn guesthouse will always place you at the crossroads of the best food, retail, art and business scenes. Perfect for mingling with the locals, creating memories and maybe even making lifelong friends.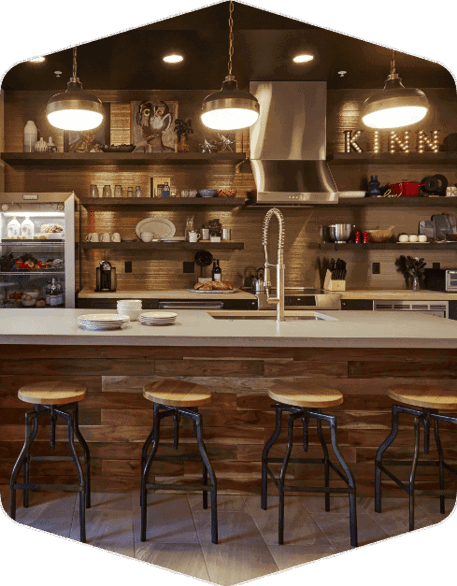 Share Common Spaces & Stories
We love when people come together to share their common experiences. Our decked out communal kitchens are the perfect place to do just that. Fire up the pro series range and while you are slinging ingredients…don't be surprised if a fellow guest chats you up, shares a story, a recipe, or perhaps even a tip for the perfect blanched kale salad.
KINN GUESTHOUSE
Bay View
Nestled in one of Milwaukee's most vibrant neighborhoods, the Bay View guesthouse is our flagship location. It's where the Kinn story began and that story is still unfolding every day, with every new stay. This 8-room guesthouse offers spacious rooms with high ceilings, a fully furnished communal kitchen to prepare meals and, for guests looking to immerse themselves in the local scene, walk right out the door onto famed Kinnickinic Avenue, where the area's most eclectic shops, eateries and pubs await.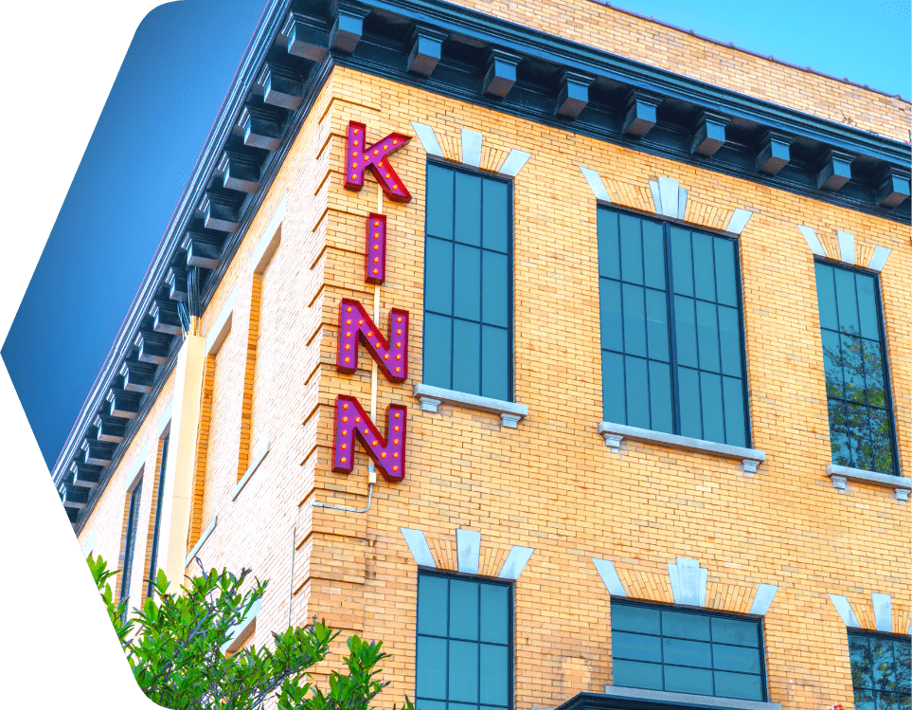 KINN GUESTHOUSE
Downtown Milwaukee
Milwaukee's newest, state-of-the-art boutique hotel, is now open at 600 North Broadway, in the heart of downtown. This five-floor, 31-room hotel is perfectly appointed with all of the luxury amenities and creature comforts of home. Just steps from the Third Ward, Summerfest and Lake Michigan, this location is perfect to live like a local. Our huge, spacious suites and common chef's kitchens on every floor make gathering an event you won't soon forget.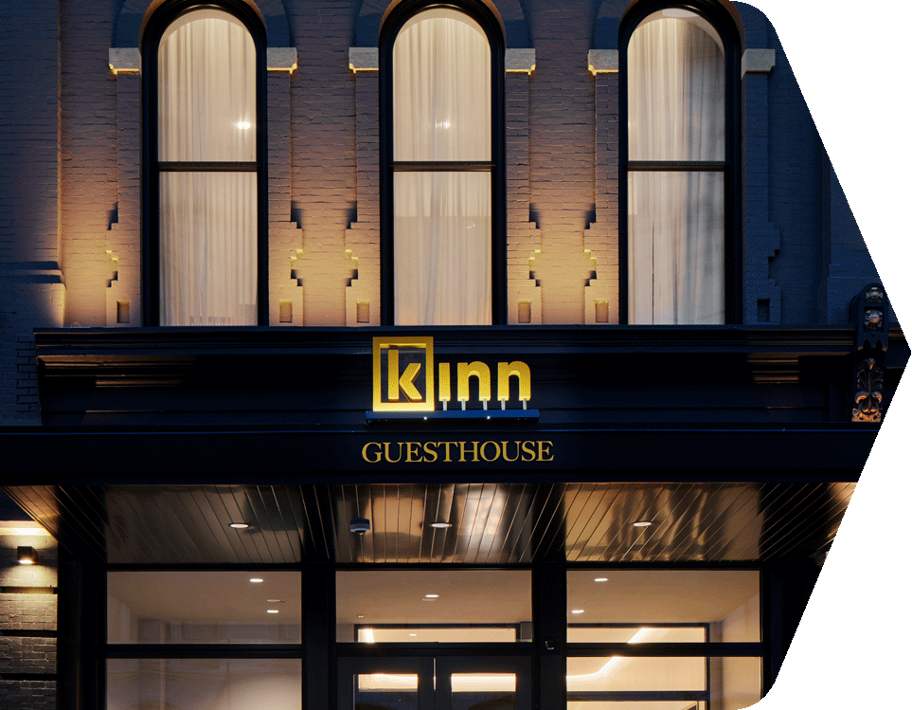 The Inspiration for Our Guesthouse Concept
What do you get when you combine a family's history and passion for hospitality, a street name, and the abbreviation for a native word that means "mixed"? You get Kinn, a one-of-a-kind hotel experience that perfectly mixes the eclectic style of a boutique hotel with the amenities and down-home feeling of a residential rental property. Learn more about the inspiration behind our unique approach to hospitality and why we chose Milwaukee as the perfect place to start this adventure.
More Ways to Book and Enjoy Your Stay at Kinn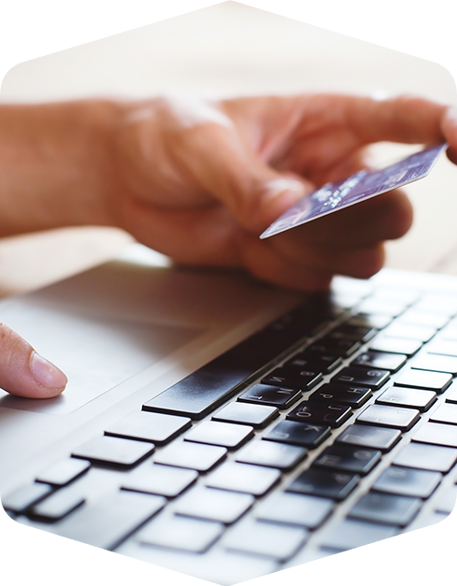 Booking Direct Saves You Coin
Besides saving 15% on any single-room stay, we'll price-match the lowest online rates. Enjoy earlier check-ins and later check-out. If that's not reason enough, how's never having to pay a cancellation fee. Who knows, you might even make it onto our Christmas card list.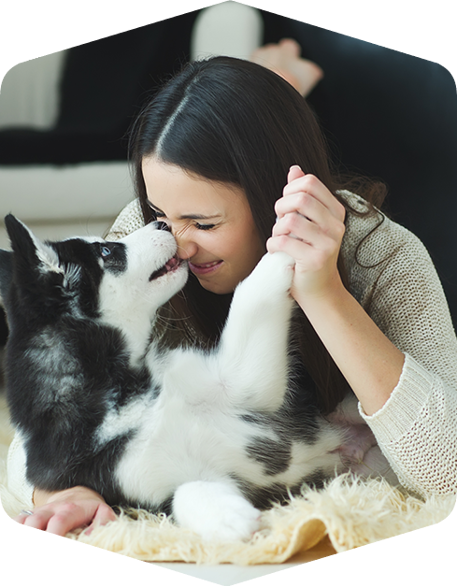 Your Pets Are Always Welcome
At Kinn, we love waggly tales and the sound of paws pitter-pattering about our halls. If your best friend is checking in with you, please let us know during the booking process. There is a $65 pet fee per room and limit of 2 pets per booking. Due to local laws and ordinances, exotic pets are not allowed.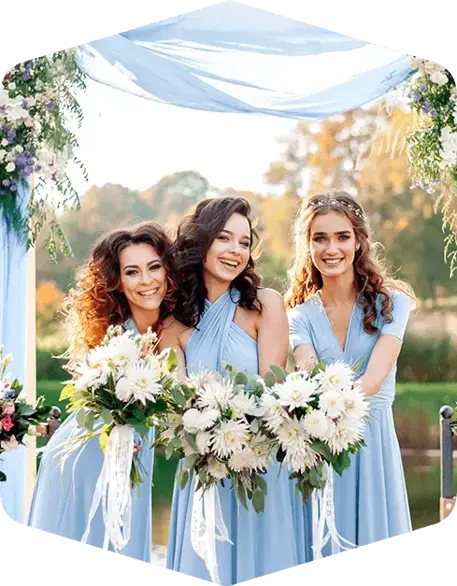 Book a Room or a Whole Floor
Planning a girl or guy's trip? Need a place for the whole wedding party to stay together? We rent entire floors of rooms and, in some cases, the entire property. Eliminate the hassle of offsite meetups and additional time crunch on your schedule by booking your group stay at a Kinn Guesthouse.
We are celebrating getting married yesterday and this was the perfect place to stay! Everything is so unique and beautiful. Suite 1 is amazing! Thank you so much.

CARLI & EVAN - 2019
Charles & Connie,
Thank you very much for making our stay so enjoyable! The Kinn is an incredible hotel, easily the best accommodations we have ever stayed in – the rooms and common areas were perfect and staying here was a great way to celebrate our daughter's 16th b-day with these other friends. We already looking forward to our next visit!

THE REILLY FAMILY - 2017
Kinn, you are a shining star. A lovely place to rest and relax after stressful days. We will be back! (but in Room 8 as aging pup can't do the stairs :)

AMY & LILA - 2021
Dear Charles, Connie & Kinn Team,
Bryon & I had a great stay! This experience is way better than any large hotel chain and we plan to be back when we next visit Milwaukee. Thanks for the croissants to send us on our way!
Take care.

BENNET & BRYON - 2020
Thank you so much for sharing your beautiful space with us! It was the perfect setting for my bridal party to relax in and get ready for the big day. Charles – you went above and beyond to make sure we had everything we needed. Cheers.

MARGARET M. & COMPANY - 2017